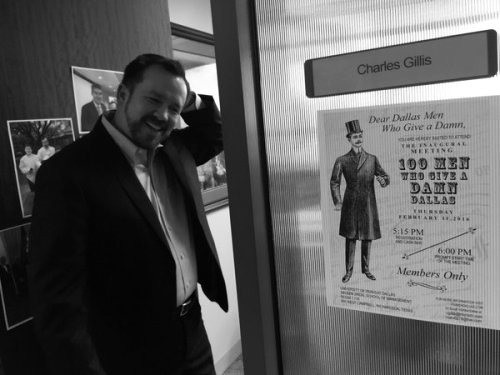 A message from our founder Charles Gillis on our first meeting
Greetings 100+ Men Who Give a Damn,
Meeting One: Big Success
We did it!  Thank you very much for coming to the inaugural meeting of 100 Men Who Give a Damn Dallas. Together we raised $10,520 for Community Partners of Dallas. Needless to say, they were thrilled. Community Partners of Dallas will use the funds for their annual Back to School Drive. Just imagine how many kids they will help with $10,520. You just made a huge impact in the lives of those kids. We'll ask Community Partners to come back to our next meeting to show us what they did with your donation. Check out their good works here:
https://www.cpdtx.org/
https://www.facebook.com/communitypartnersdallas/
Let's also not forget the good works of the other two charities. Several of you have asked about sending them an additional donation. We certainly encourage any support through donations, volunteering or simply spreading the news about their great programs.
CitySquare: https://citysquare.org/
EARS: https://earstexas.org/
Missed the meeting?
If you were unable to make the meeting and did not send your check with a buddy, please send me your check ASAP if you wish to remain a member. Make your check out to Community Partners of Dallas and mail it to Charles Gillis, 500 North Akard, Suite 3800, Dallas, Texas 75201. If you need me to do so, I can come see you to get the check. We're tracking the impact our organization, so please send the checks to me so we can present Community Partners with another stack of checks.
Media: The word is spreading. We've been on radio and TV news and a writer from the Dallas Morning News was at our first meeting.  Check out the great media attention here: https://giveadamndallas.com/news/  Please help spread the word by sharing your role as a Founding Member on your own social media feeds.
https://giveadamndallas.com/
https://www.facebook.com/100mendallas
https://twitter.com/100MenDFW
https://www.instagram.com/100menwhogiveadamndallas/
Nominations:
Members can nominate three local charities. If you wish to add to or change your nominations just email us and we'll note the change. Remember, all charities are vetted to ensure they meet our eligibility requirements, so please get nominations in well before our next meeting.
Next Date: Thursday, May 12, 2016.
We'll meet at UTD, same drill as last time.  Happy Hour at 5:15, meeting starts at 6:00.
Sponsors / Volunteers
Special thanks to the generous law firm of Munsch Hardt for sponsoring the bar, food and parking lot shuttles at our first meeting (full disclosure – I work there).  If your company is interested in sponsoring an aspect of the next meeting, please drop me a line.  Considering the amazing group of guys we've assembled, this is pretty powerful group to put your name in front of.
Gmail blocked our original email as SPAM, so you may eventually receive this message from our Gmail account as well. You'll hear from us again in a couple of months as we near the next meeting. If you don't want to be on this list just let me know. If you have any questions, comments, or feedback, please send them our way. Thanks again for making our community a better place.
Go forth and give a damn!
Charles Gillis